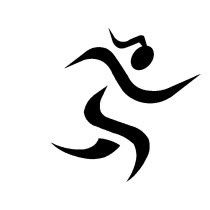 In high school I ran cross country and track. I enjoyed running for miles. Don't ask why because sometimes it was a mystery to me. While we were on "road runs" it was mine and God's time. Looking back I see how immature my faith and relationship with God was, but it was still there. I would pray and pray for miles and miles. It was great. There were times when I didn't think I would make it. Crazy coach, I called him the "running Nazi", asked us to run 5, 6, or 7 miles. God always got me through though.
One time, I think it was before a race, my mom gave me a card with Hebrews 12:1&2 on it
"Wherefore seeing we also are compassed about with so great a cloud of witnesses, let us lay aside every weight, and the sin which doth so easily beset us, and let us run with patience the race that is set before us. Looking unto Jesus the author and finisher of our faith; who for the joy that was set before him endured the cross, despising the shame, and is set down at the right hand of the throne of God."
Isn't that beautiful? My Mom was always really good about doing stuff like that. It gave me such encouragement. Not only did it pertain to the actual physical race I was going to run, but it also pertained to my life and my faith.
Patience has never been my strong suit, but God clearly calls us to it.
I ran a mile last night. It's been bothering me for awhile that I'm out of shape. I decided to do it and it brought back such wonderful memories of the quiet time I had with God.
It's hard to get time alone to spend with God, but when I run that's time that is carved out especially for me and Him. I'm not only exercising my physical body, but I'm exercising my spiritual self as well. Praying and letting God minister to my heart is such a special thing.